Who Else Wants A Dye Dm8?
UPDATE: The Dye DM10 paintball marker is now available.
Drum roll please . . . Introducing the all new paintball marker from Dye Precision, the DM8. Looking to improve on the already successful and popular Dye Matrix Series, the DM8 is in a league of its own.
Dye's team of engineers, pro tournament players, and designers worked furiously around the clock, testing and re-testing the DM8 to ultimately produce one of the best paintball guns in the world. Now while I'm not suggesting you dump your old markers just yet, you may just want to after reading this. Now let's take a closer look at the beast they call the DM8.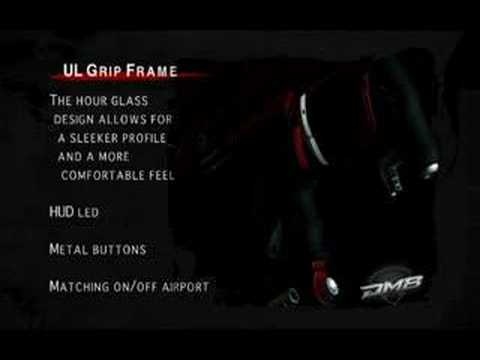 Fast Forward To 2008
In the case of all new paintball markers, manufacturers are always looking to improve on presentation and looks. Dye is no stranger to this and has a reputation for some of the greatest milling in the industry. The new DM8 is no different, constructed mainly of aluminum; it looks very slick and stylish. The weight of the DM8 has been decreased by 1.6 oz making the DM8 a lot slimmer and lighter than previous models.
Dye went ahead and removed the eyeplates from the DM8 allowing for a lower profile. New in 2008, Dye has implemented a new patent-pending eye pipe anti-chop sensing system. This allows the eyes to clean themselves, so you spend less time playing with your squeegee and more time mowing faces.
The DM8 comes standard with a vertical rise clamping feedneck, so don't worry about your Halo B falling off or twisting around while you're diving behind the snake. Also adding to the low profile and performance of the DM8 is the UL 14 inch barrel, which is extremely accurate right out of the box.
Taking the place of the Hyper2 is the Hyper3 regulator. The Hyper3 regulator is more consistent on a shot per shot basis, and allows the user easy access to finer pressure adjustments. The Hyper3 has a cool and comfortable sticky grip, and is a lot smaller in scale then the previous model. Also worth noting, the newer, simpler and smaller on/off ASA is good for safely releasing air from your marker.
The ultra light grip frame and trigger emphasize the compact and functional nature of the DM8. The marker comes with various different firing modes such as semi, PSP, NPPL, and Millenium with an LED HUD for quick reference. Dye has gone and improved on the one piece FUSE bolt system, which adds greater reliability and ease of use. If this hasn't excited you enough, keep reading, because next we are going to look at the main features and strengths of the DM8.
DM8 – Main Features & Strengths
No eye plates
Magnetic detents
Self-cleaning eyes
Clamping feedneck
FUSE bolt system
Hyper3 regulator
Limited recoil
Very reliable
Shoots at 30 bps
Ollie Lang uses it…
Low operating pressure
Ultralite barrel, frame, & trigger
Simple, easy to read HUD display with multiple firing modes
Very light, making it easier for snap shooting
Low profile; good for tournament play as your gun won't poke out from behind the bunker, doh!
DM8 Specifications
Marker Name: DM8
Manufacturer: Dye
Suggested Retail Price: $1450
Length: 8.5 inches
Height: 9 inches
Weight: 1.4 lbs
Gas Type: HPA
Operating Pressure: 145 PSI
Max ROF: 30bps
Efficiency: 1000 shots
Gas Interface: On/off ASA
Loader Location: Vertical loader/hopper
Firing Modes: Semi, PSP, Millenium, NPPL
Summary
I give the DM8 4.5 out of 5 simply because it's an air hog like a V12 sports car guzzles gas, and nothing is perfect right? However, the strengths of the DM8 far outweigh any weaknesses. To be honest there is nothing that I've come across to suggest that there's anything wrong with the DM8 at all. I would go as far as to say that the DM8 is the best paintball marker that Dye has ever produced. It shoots fast, it is light, and it dominates the rest of the competition. But the question remains… Will you be looking down the barrel, or into it?
Check out prices on the Dye DM8 online here.
About The Author
Niko Brain is a freelance writer and offers sound advice on the sport of Paintball. He runs his own personal paintball site and enjoys writing reviews on Tippmann and Spyder Paintball Guns. He's your "Average Joe" paintball player and is an up and coming industry resource that loves to help newcomers to the sport.