What is the fastest paintball gun? High end paintball guns in the $600-$1200 range can shoot at least 20 BPS (balls per second). This is faster than allowed in a paintball tournament, so most paintball players lose interest in speeds beyond this point. But not me.
Here is video demonstrating paintball gun speed. None of my friends can agree on how fast these guns are really shooting. We figure somewhere between 20-30 BPS.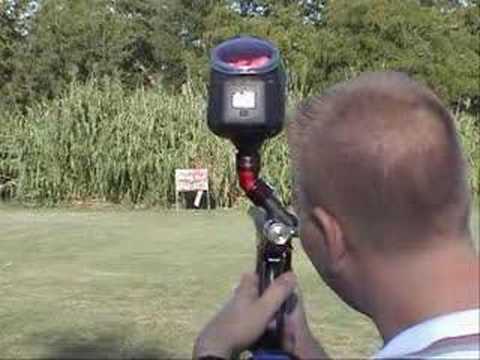 There is probably much debate about which paintball gun is the fastest. The fastest paintball guns I have seen are the MacDev Cyborg, which shoots around 28-30 BPS, or the Ego, which shoots over 30 BPS.
The guys in this video say their paintball gun is shooting at 54 BPS. I've never seen a gun shoot that fast without chopping the paintballs. Can this be real?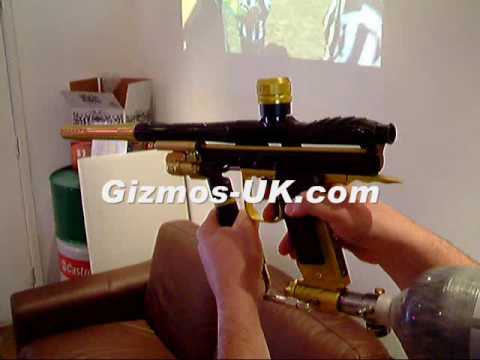 The Halo B hopper
The Halo B hopper, made by Odyssey, is one of the most popular hoppers available today. The Halo B hopper is advertised to have a feeding speed of 22 BPS, holding 170 paintballs at once. Unfortunately, The Halo B hopper can only maintain 22 BPS in short bursts. The Halo B will average around 17 BPS, at least, without a new board.
The Halo B can be upgraded for improved performance. For example, consider the Victory board, with a select feed mode increasing the speed to 30 BPS, the Speed-feed, which lets you fill your hopper without removing the lid, and lighter drive cones. (compare hopper prices)
The q-loader
The q-loader is high performance clip-based paintball loading system. It uses 100 round spring-powered clips that are reloaded off the field. The q-loader's speed varies depending on the number of pre-winds applied to the spring and the configuration of the feed tube. With the maximum number of pre-winds (16) and no feed tube or elbow, the q-pod will empty a full 100 rounds in just over 1 second. Unfortunately, the q-loader can only hold 100 rounds. (compare hopper prices)
What is your fastest paintball gun speed?
How fast can your gun shoot? What kind of hopper or upgrades do you use?
What paintball gun do you think is fastest? What upgrades work best?